So I returned from Tenerife two days ago.
I had been on research trips for several weeks alone before, but not really on holidays, and the destinations of those earlier trips were usually cities. Although, this was not really planned as holidays either, but as a photography trip. But I think it turned out more like holidays.
But before I start, I want to add one thing to last month's article, where I decribed my mini trip to Lunz am See: I had never really been on holidays in Austria before. But I discovered that Austria is actually an excellent holiday destination. You have great landscapes, clean and comfortable accomodation and excellent food. And last but not least great public transportation. Although, compared to other countries such as Spain, Austria is a bit more expensive, but I think the quality is also a bit better.
Puls, I want to mention two funny but annoying events before resp. at the beginning of my journey:
First: I allowed my mother to track my Android devices through my Google account. Guess what happend: she deleted everything from my phone. I drew the conclusion that this is something like a bug in the find feature of Google/Android: before reset is executed, Google should ask for the password, which I did not tell to my mum. But obviously this is not the case.
Second: in spring a thief stole my wallet and used the contactless payment feature of my bank/credit cards. Of course I reported this to the police and got the money back from the bank. However, the Police caught the thief and on the day when I returned from Lunz, I found a letter in which I was "invited" to the thief's court hearing as a witness. And there was that threatening tone, stating that I have to pay up to EUR 1000 punishment if I don't go to the hearing, unless I have a good reason such as severe illness. Originally, the hearing was scheduled for September 29. At that time, I had already bought the plane ticket and the flight should have been on September 29. Luckily I was able to reschedule the fight for October 1. However, a few days before I few to Tenerife I got an email from one of the lawyers, informing me about the fact that the court hearing was postponed to October 10. So I rang them up and fortunately they told me to send them a copy of the plane ticket go on holidays.
So, what did I do on Tenerife? Of course, above all, I wanted to take photos. There is a lot of marketing for the Canary Islands, and indeed there are some epic landscapes, however, you need to know this: most of the time, you can't really see those landscapes, because there is too much water in the air. So if you really want to see something, you should probably spend there at least several weeks so hopefully there are some days when the view is better.
I spent almost 2 weeks on Tenerife. This was the schedule:
day 1: swimming in the ocean and botanical garden in Puerto de la Cruz
day 2: Los Gigantes and whalewatching
day 3: Pico del Teide
day 4: Loro Parque
day 5: hike from Playa de Martianez to Café Vista Paraiso
day 6: Icod de los Vinos
day 7: Roques de Garcia hike
day 8: Barranco del Infierno
day 9: trip to La Gomera
day 10: swimming and shopping
day 11: Punta del Hidalgo
So I actually climbed up to the Pico del Teide, but really this was just a waste of time, beacuse of the reasons I already mentioned. This was my highest "hike" so far, and going uphill at such an altitude is indeed exhausting. I had very slight muscle pain on the next day. And on the way to the Pico there were a few minutes when I regretted that I signed up for this climb. Really, I don't recommend going up to the Pico, and not even to the end of the cable car. There is much more to see in other parts of the island. I guess I only did this beacause I am a bit ambitious.
I think the most impressive thing during this journey was the Loro Parque. I think it's wonderful what they can teach those sea lions, orcas, dolphins and parrots. The sea lions stood on their hands. I was so busy with watching that I did not manage to take any photos.
The Los Gigantes cliffs were also in the fog. But I cloud take photos of some whale families. There were lots of baby whales. I actually did not see them, although the guide said that there were babies. I just saw that there was something, but the camera saw them better.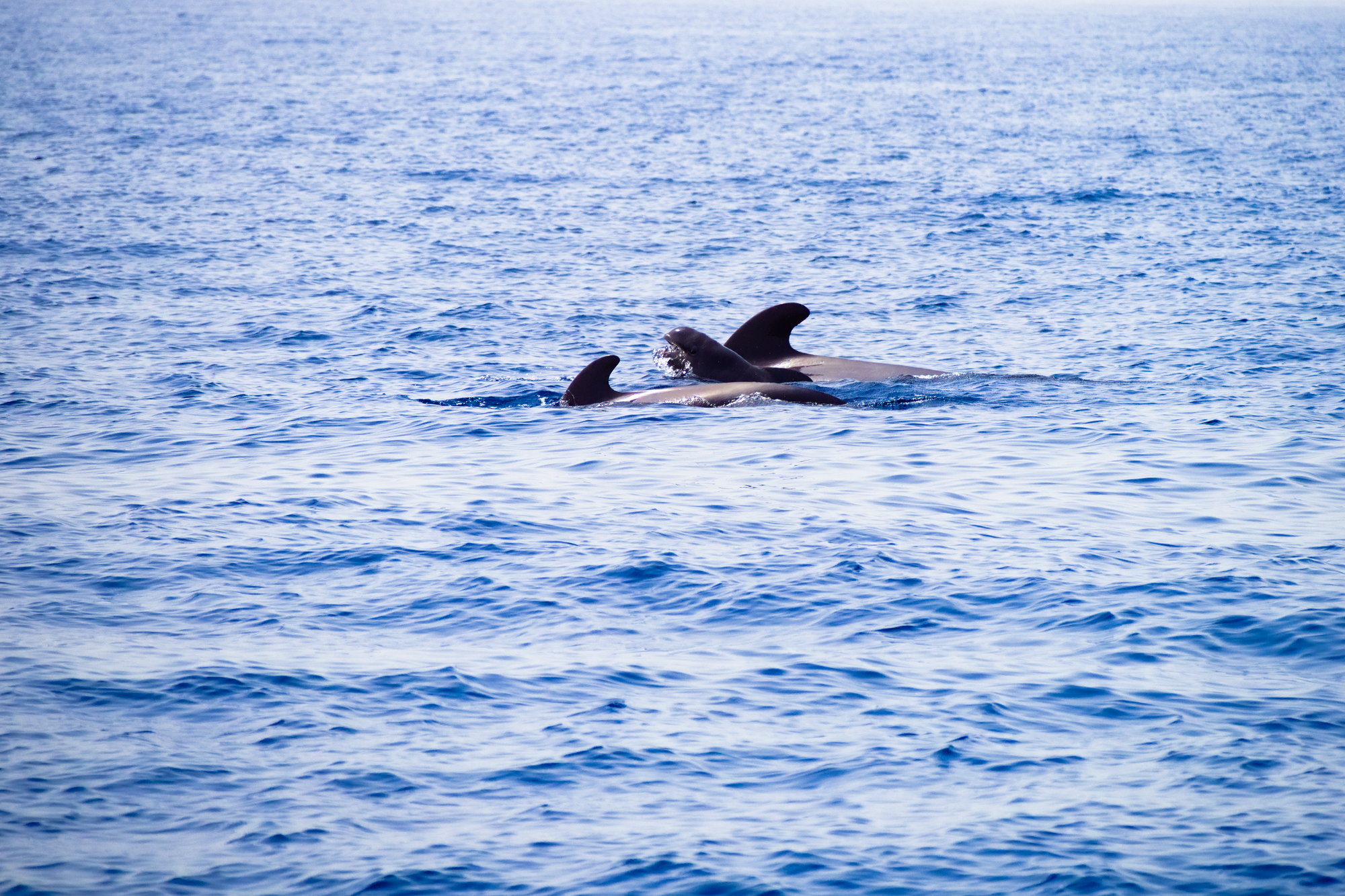 On the 5th day I made the hike form the Playa Martianez in Puerto de la Cruz to the Cafe Vista Paraiso. I found the trail in the Rother hiking guide Teneriffa. In the book it's marked as easy, however, the climb from the Playa del Ancon to Vista Paraiso is not for everyone. At the lower end of the climb, the dager sign was put to the side, but at the other and there is a clear sign stating that the trail is dangerous. It's a really nice hike and the view from Vista Paraiso is great but the end is comparable to the Taubenbachklamm.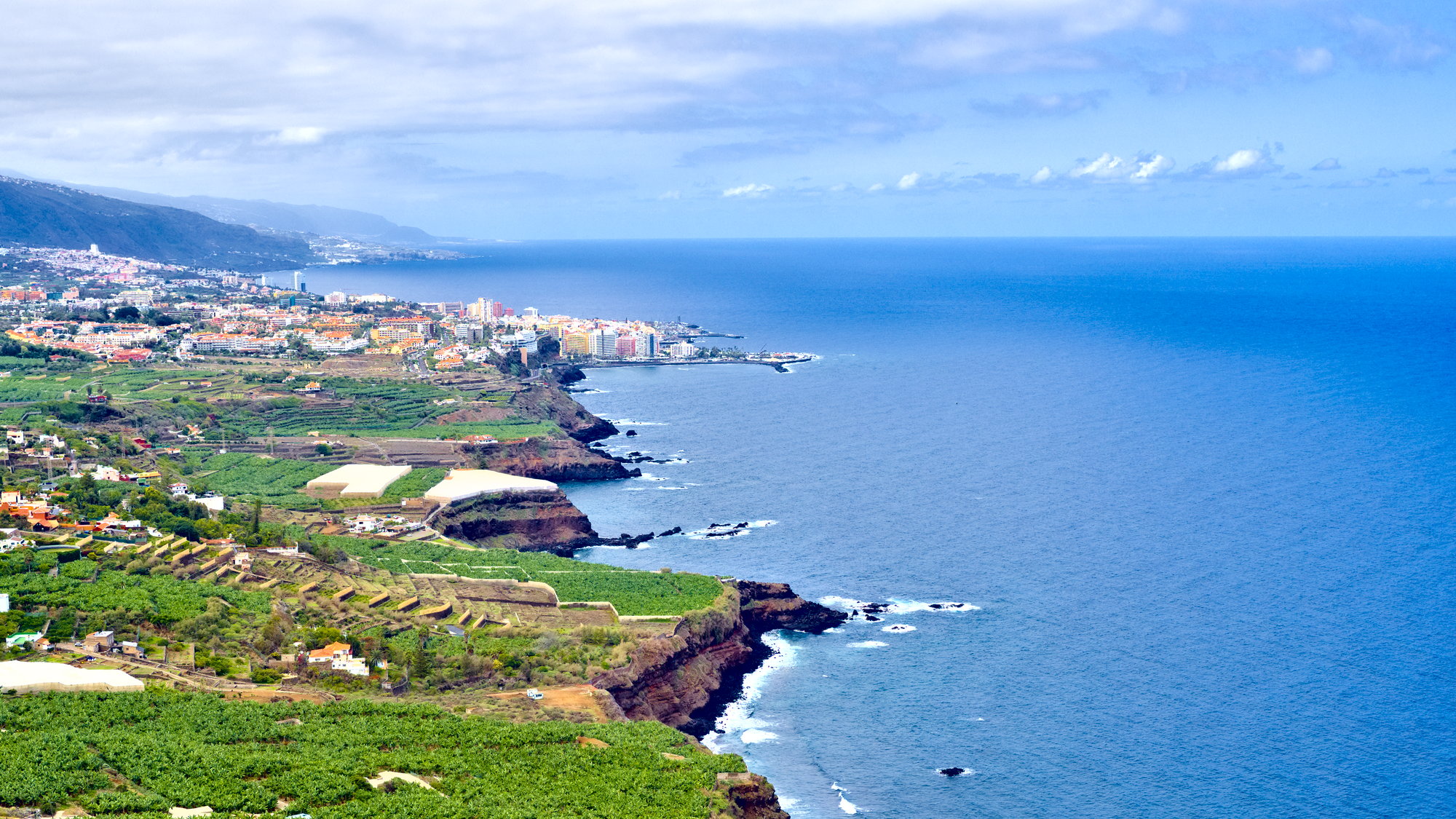 Those white areas are banana plantations I think, unfortunately they destroy the beauty of the landscape.
The Roques the Garcia and Barranco del Infierno hikes are both highly recommended, but they are also more difficult than stated in the book. The Roques de Garcia hike is not so short and you have to climb approximately 300 meters up and downhill. For me, they are both intermediate hikes, they are a bit but not extremely exhausting and there are no technical difficulties or really dangerous parts.
Two more pics:
La Gomera:
And Punta del Hidalgo: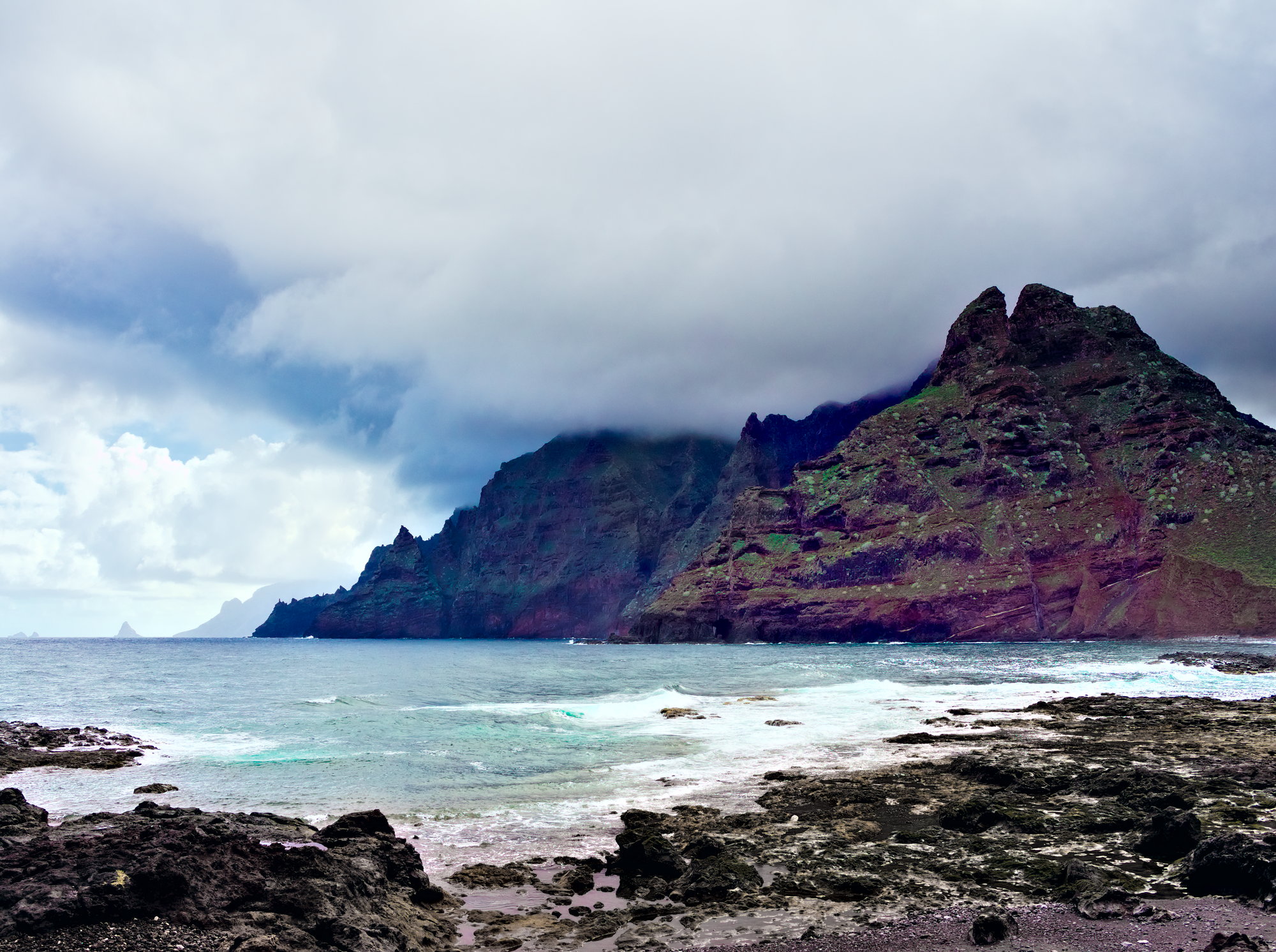 I have no photo of the Barranco del Infierno yet, but there I had a little "adventure": I took the bus 460 to got there. According to Google Maps and also the local bus station signs the bus was supposed to go into Adeje City Center, but instead, it stopped 3 kilometers after Adje. So I had to walk 3 kilometers uphill to the barranco. And I almost had to run since my time slot was for 10 a.m.
To sum up: I think I took fewer good photos than I had planned. Maybe one really needs more time to become part of the nature and the landscapes. Or maybe just more experience with other kinds of landscapes? Nevertheless I had a great time. My next destinations might be somthing like the Azores or Lanzarote.
Yea, one more thing: I put my tripod into the suitcase but I did not use it - I guess I need a tripod "slave" but I would be too lazy to use it anyway.
Finally: I am wondering how much a bus driver on Tenerife earns. I think they are great guys, they are totally aware of their resposibility because it's really difficult to drive on Tenerife. There are lots of curves and a lot of the driving is extremely up- or downhill. On the contrary to Austria, on Tenerife, the drivers need to wear a mask, and they always remind people of wearing a mask if they see someone without it.