So I am back from Corfu since a few days. It was a bit exhausting, but great.
Where should I begin? I actually used my tripod and I also took quite a few good shots with my smartphone. I think this is one of the best photos that I took on this journey - with my phone: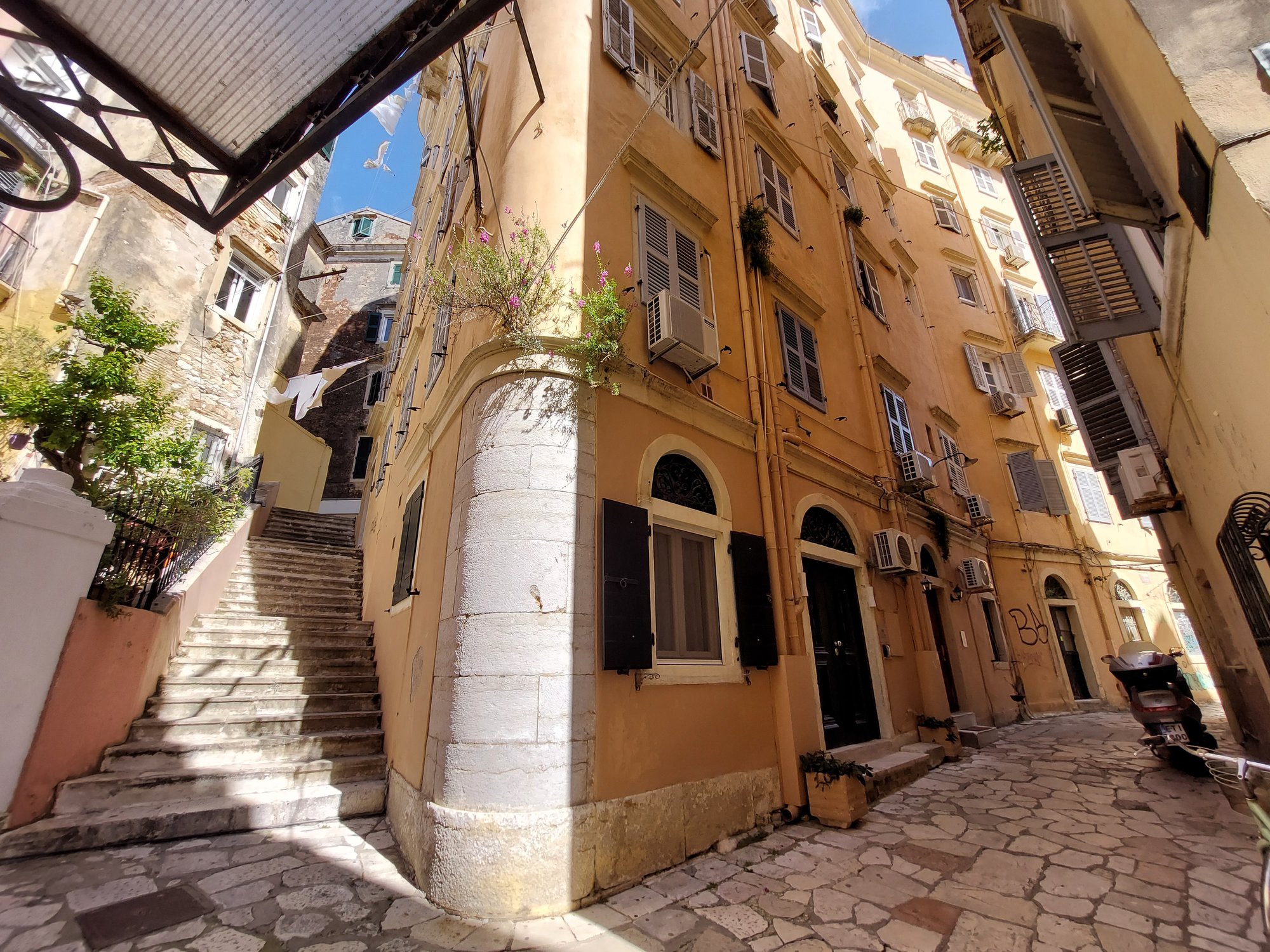 I took it last Wednesday I think, when I was walking to the Byzantine Museum in Corfu Town.
And this is one of the pics that I took with the tripod: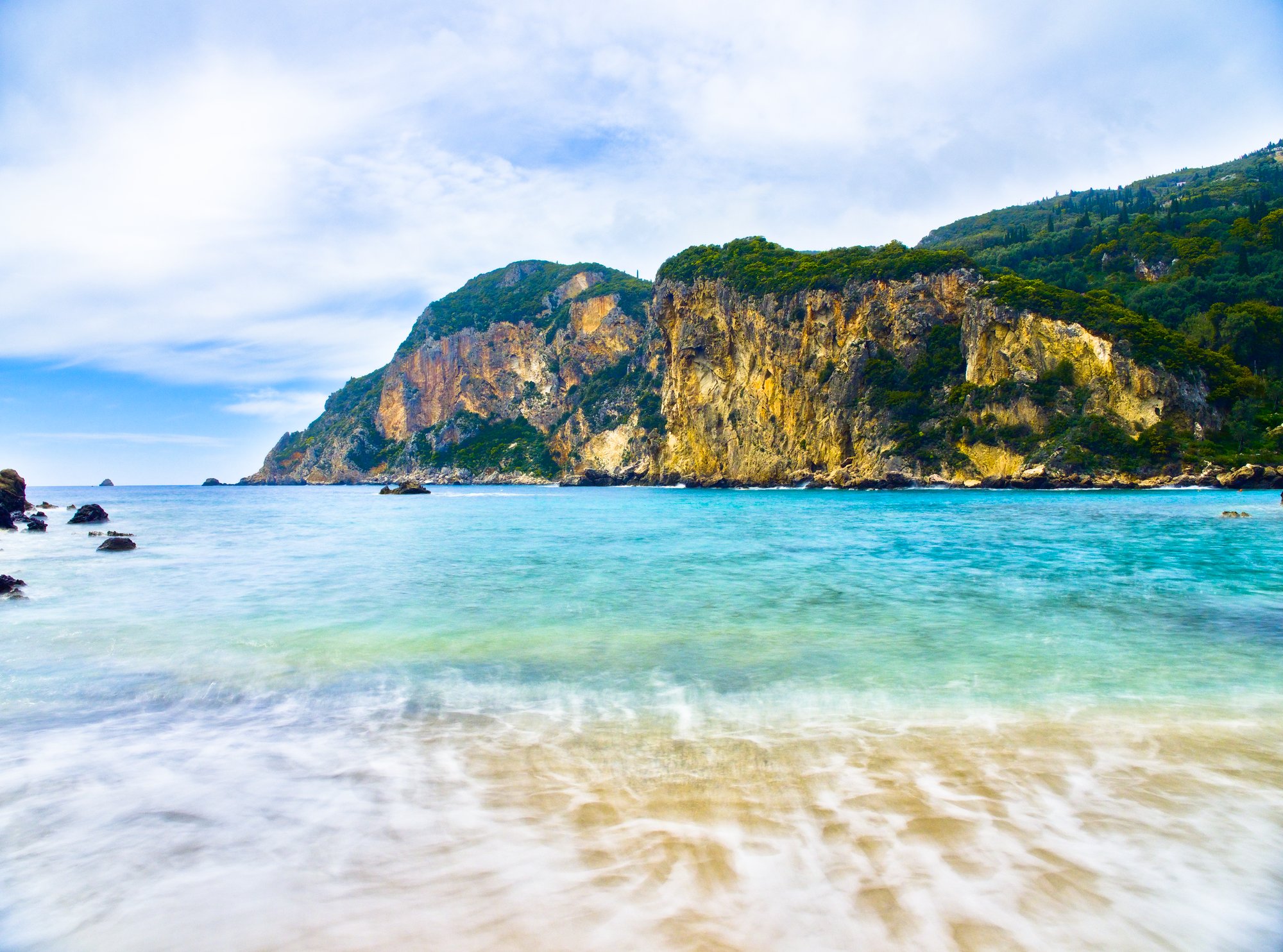 I think I need a smaller tripod that I can always carry with me, and a backpack that has a tripod sling.
Corfu is a wonderful destination. Travellers are not tourists but guests. Maybe that applies to Greece in general. I had been to Greece before, but that was more than 20 years ago.
Corfu Town has a great mediterranean, (south-)european, metropolitan and rural atmosphere at the same time. Probably one cannot experience this during the high tourist season. There are hardly any immigrants, only Greek/local people and mainly Polish, French, German(-speaking) and American tourists. Everything is very original and regional. Though almost every local speaks English, there is/was only one McDonalds that is closed at the moment. There are very few big supermarkets, most of them are tiny, one of the "bigger" markets in the city is e.g. the Ionian Supermarket, which is also rather small and a regional company. On the first day, I wanted to buy some food, I looked for sandwitches. But there are no ready-to-eat sandwitches at the supermarket. Instead, I bought bread and hummus with pepper taste. It was the only thing I knew and turned out to be delicious.
This was a real hiking journey for me. I was hiking almost every day, but mostly not difficult trails. I tried several hikes from the Rother hiking book Corfu.
On the first day, I walked from the New Fortress to Kanoni, which is a very nice hike (trail 20). Although this is a city walk, I recommend hiking shoes.
The Cape Drastis hike is not marked as a "top" hike in the book, but it should be. Easy hike and well marked.
I also walked the Porto Timoni hike, but only partly. I only went down until I reached the best viewpoint, after that I climbed back to Afionas and then I hiked to Arillas, where I took the bus back to Corfu town. The trail down to the viewpoint is rocky and quite uphill/downhill, but not really dangerous.
However, I cannot recommend the Cape Asprokavos hike for photographers, even though it is marked as highly recommended in the book. It is not possible to do the last part of the hike since one part of the beach is flooded. The book mentioned that this is possible, however, I think this is always the case. But even without the last part, this is a rather long and exhausting hike, and the landscape is not as photogenic as in the other hikes. Right before reaching the beach, I took the trail that was marked (as a trail, also in the map), and not the trail that is recommended in the book. This part turned out to be pretty downhill, but it was well secured with ropes. It was enough to give me sour muscles though. So I definitely don't recommend this hike.
I also walked most of the Paleokastritsa - Angelokastro - Agios Georgios Pagon hike, but I skipped the donkey trail from Paleokastritsa to Lakones, since there is a bus that goes directly to Lakones. However, this hike turned out as quite an adventure: 1,5 kilometrs before Agios Georgios Pagon, the trail ended because of a landslide, whose end I did not see, so this was a dead end, and there was no sign, warning or detour along the whole trail. So I had to go back (approximately 300 meters uphill) to Makrades. Luckily, I started the hike very early and there was enough time to catch the bus. But I was kind of prepared to such things, since I did not find any good info about hiking trails on Corfu on the internet. Also, on the way back, I met many other hikers who wanted to go to Agios Georgios Pagon, and I warned them. By the way, this happed on the very same day when I was flying home later in the evening. First I panicked a bit, but soon I realized that there was enough time. Anyway, save the number of the Corfu taxi company in your phone for such events. Else, this is really a great hike and I think I do not regret that I had to walk back.
What is really great about Corfu is the fact that there is a bus even to the tiniest village. However, sometimes you have to get up very early in the morning, because it leaves at 5 or 6 a.m.
One or two funny "events" that I witnessed: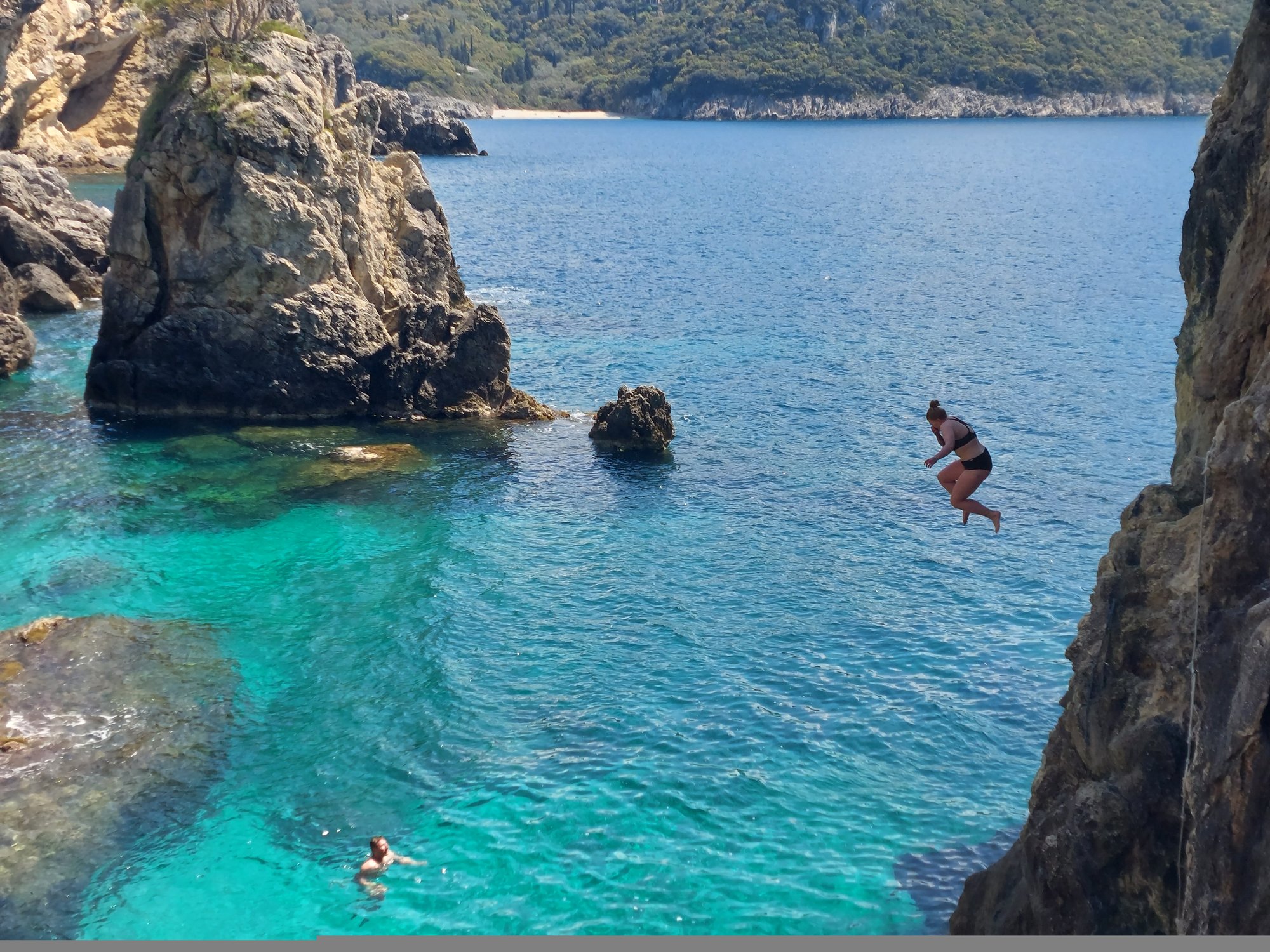 I took this pic at La Grotta in Paleokastritsa. By the way, it was kind of cold the whole time, 18-20 degrees. So those people were two crazy Polish tourists. First, the guy climed up to the rock and jumped, and the woman just followed him without thinking. I think she won't follow him blindly any more, because when she was on the rock, she waited about 10 minutes before she jumped, she probably realized that climbing down was not really an alternative...
An the other story that I already mentioned on Hubzilla: On the third day, I made a day trip to Paxos and Antipaxos with a ship. Among the passangers was a group of American teenagers: even though it was really cold (18 degrees + stormy wind on the sea), they were running around in string bikins and with beer bottles on the ship the whole day. On Antipaxos, they also jumped into the water for a swim, and at the end of the day they were dark red because of the sunburn.
Unfortunately, there was no time for the Pantrokratoras, and the Achilleon and it's park are permanently closed.